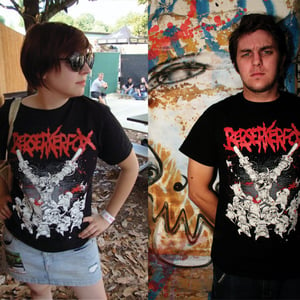 $

18.00 - On Sale
Three color screen printing on Gildan/JB's Wear (100% cotton) T-shirts.
What measurements and sizes do your awesome shirts come in?
Guys Tees Size Chart
Ladies Tees Size Chart
Perfect for any event you can think of - birthdays, anniversaries, house warmings, swingers parties, etc. And this shirt comes with a free copy of BerserkerfoX's latest EP, "King Kong on Crack" - all for only AUD $10. But wait... there's more. How about a cool sticker to whack on to any surface you can think of? That's right... we're throwing one in there too!
Postage and handling (P&H) within Australia is $8.00, and international postage is an additional $5.00 AUD (Registered Post). Other postage options are available; please contact seller for more information.